Welcome to The Gates Church
September we will gather at 1400 Horners Ln. 6pm Sundays.
Join us for our teaching series called Equip where we allow God to use all his tools to make us into the masterpieces of the kingdom.
Events for the Community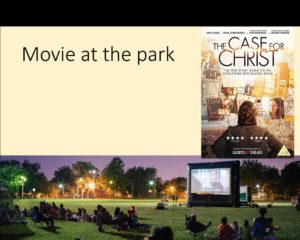 September 16th. Movie Night
7pm at Colgate Rec Park across the street from the UHaul store on North Point. We will have give aways; movie starts at dark. Bring your mask stay six foot away. We are watching The Case for Christ. We will have popcorn. Here is a quick link for the trailer of the movie... the case for christ movie trailer
Last Teaching Series with Pastor Austin
The Worship Series
As we seek to broaden our understanding of worship, pastor Austin teaches about five forgotten ways to glorify God in all that you do.
Life Group Wednesday at 6:30.
Come on into our zoom meeting Wednesday at 6:30pm. We are talking and having a discussion about discipleship and community and what groups look like in our church.
Zoom Meeting Link 6:30pm on Wednesdays...
https://us02web.zoom.us/j/89891889117
Meeting ID: 898 9188 9117
Life On Life lesson In June.
http://thegateschurch.com/life-on-life/ click here to check out our new sheet and video about life on life conversations. This we talk about government and authority.
This is our third and last installment of Resurrection Power. We have been going through 1 Corinthians 15. The resurrection power of God is real, real important, and will really change your future.
Check out Sunday's sermon above. It is our second installment of our series Resurrection Power. Is Austin beside a Christmas tree? Check out the video below (part 1) if you missed last week, and be sure to join us on zoom life group Wednesday at 6:30pm. Read about it below. Sundays at 10:30 we go live on Facebook. You can even view it if you don't have a Facebook account. Click here to go to our Facebook page. https://www.facebook.com/thegateschurchbaltimore/
Check out this Sermon above from Easter Sunday April 12, as we begin our new series called Resurrection Power, as we study 1 Cor. 15:1-11. Jesus rose from the dead for real in history. Austin even has a tie on for Easter. Check it out.
Life Groups on Zoom
We will post here on the home page the links for the zoom life groups.
Click "Give" below to support our ministry.