Join us for for three "Tuesday Teen Nights" at Beachmont Christian Camp! June 29th**July 27th* *August 24th*
6th-12th grades, meet at 1400 Horners Ln. at The Gates Church for food at 6:00.
Waiver must be signed by parent or guardian for you to ride on the church van.
Each Tuesday evening during the summer, teenagers from all around Maryland gather at Beachmont to play games and have fun, and experience the good news of Jesus Christ through fellowship, worship, and the preaching of God's word.
7:00 to 8:30 P.M. Activities include dodgeball, basketball, volleyball, GaGa, Poison (camp dodgeball), ultimate frisbee, swimming, and more! After hanging out and playing games, everyone gets together for worship and to hear a message from a local Christian leader from about 8:30 - 9:30 PM.
For more information, go to https://www.beachmont.org/teen-nights
According to their website, Beachmont has a couple requirements for those who participate:
One of the rules our guests are requested to adhere to: Immodest bathing attire will not be permitted. No two-piece or bare midriff swimsuits. To avoid potential embarrassment, please come dressed appropriately.
In the event of an emergency, Beachmont needs to know who is on the property during Teen Nights. Please fill out this form. (You will only need to do this once this summer!)
Email Address: _________________________________________________
First Name: _________________________
Last Name: ______________________
Age: _____
Emergency Contact's Phone: ______________________________
Emergency Contact's Name:________________________________
you will also need to fill out this release form for our church to transport you. beachmont release form

Every other Tuesday in Summer our ministry team meets with middle school and high schooler's at 1400 Horners Ln. at 6pm for food fun and faith.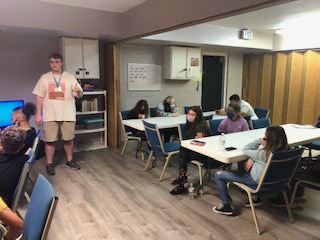 good news camp 2021 August 3rd, 4th, 5th, & 6th

5:30-8:30 each night.
Summary This is an event for those going into middle school and high school. This is going to be a four-day, awesome, life-changing event in the evenings Tuesday to Friday, August 3rd-6th. All these incredible activities will be at 1400 Horners Ln. Good news camp will be free to all those who come. We will do a delicious meal each night, free T-Shirt while supplies last, and a lot more!
Schedule Each Night- Tuesday, Wednesday, Thursday, & Friday
5:30 P.M. Arrive Each night students will register at the desk, receive any materials or instructions they need for the night, be assigned a team, and spend time hanging out with other students.
5:35 Intro Games This is a fun energetic time in which students are doing games to get to know each other and counselors are better getting to know them too. We have some out of visiting volunteers from a partner church leading this event.
6:00 Worship Time Here we gather the students for exciting music and introducing the topic of the night.
6:30 Dinner This is when all of camp will eat together. Get ready for a delicious meal each night.
7:00 Group This is probably the most important part of our camp where we're dividing up into 3 groups  to grow in our faith.
7:45 Colossal Challenge Our three groups will face off against each other in extremely fun activities. A champion will be crowned.
8:15 Closing Ceremony Last moments of our camp where we bring some concluding thoughts and reflect on what we are learning.
8:30 Dismiss Sending students home. Our ministry team can help students get home by van or walk them home. Parents can pick them up also.
With any questions please email Pastor Austin austin@thegateschurch.com