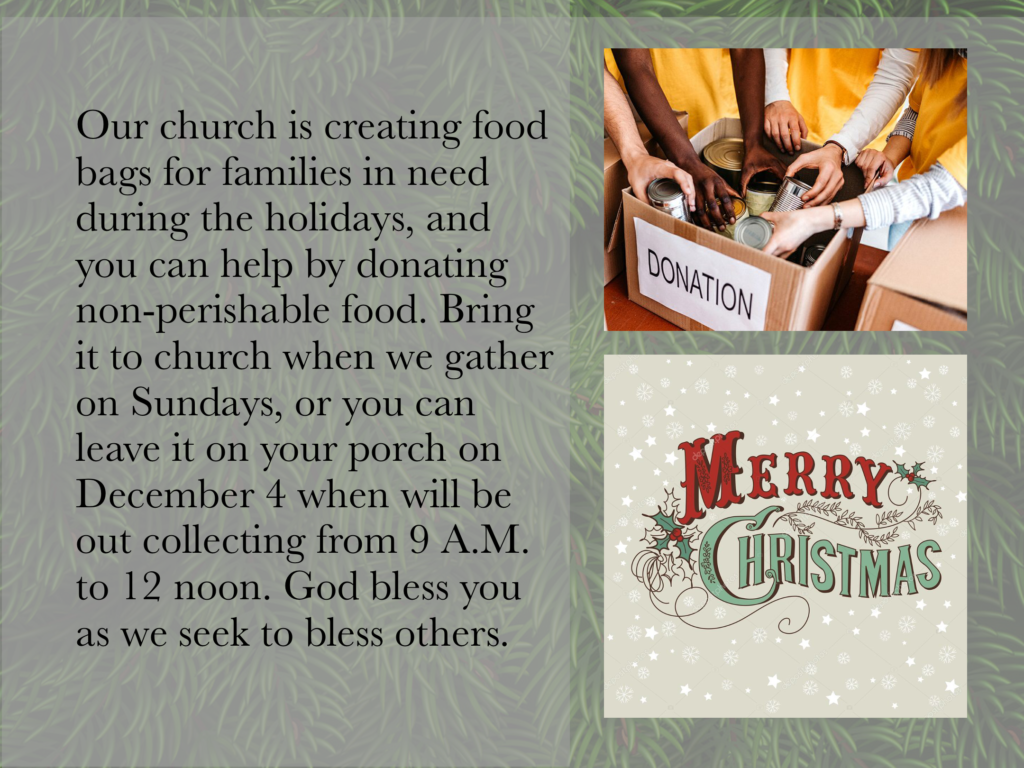 Calendar for The Gates Church
Put this on Your Calendar and invite your friends
Wednesdays and Thursdays LIFE GROUP at the church house 6 P.M.starting on December 1st

Life group will be these two days each week in December. The groups are times when strangers become family as we dig into the biblical truths of the advent of Jesus Christ the Son of God. Usually each week the groups will have the same content.
Canvasing the Neighborhood- Tuesday, Nov. 30th time to be announced later

We are trying to get hundreds of door hangers on doors in our community to let people know about our ministry during the Christmas season.
A Day to Serve by Collecting Cans- Saturday, Dec. 4th at 10am

Come out to serve and connect with our community. We will be packing bags of food for those in need while others go around the neighborhood collecting food from donors.
Holiday Church Family Meal after Church- Sunday, Dec.5th

Come hungry as we fellowship and celebrate together after church. Invite your friend to this special day. Bring your favorite holiday side.
Diggin' Deep- Tuesday, December 14th at 6 P.M. at the church 1400 Horners Ln.

This is when we gather 4 year olds through 12th graders for food, faith, and fun. If you are serving, please try and get there at 5:30. We will be finished at 7:30 so everyone can get home and get ready for the next day of school.
Our Christmas Roasting Fire- December 18th at 6 P.M.

Join us for Christmas carols, a large fire, hot chocolate, food, and fellowship. Oh yeah, we are going to have a wonderfully large fire with friends.

Food Give Away- Sunday, December 19th 11 A.M.

At the end of our worship service we will be delivering and distributing the food that we have collected for those in need. We invite anyone in need to come worship with us and take a bag of food home with you.
Birthday Party for Jesus- Tuesday, December 21st at 6 P.M. at the church 1400 Horners Ln.

Youth Day Camp- Wednesday, December 29th 12:00 noon until 5:30 P.M. at 1400 Horners Ln.

This is going to be an awesome time for middle schoolers and high schoolers to have a fun day of events serving and growing in their faith. More details to come…